2019 Champions Award Recipients
AIA Student of the Year - 2019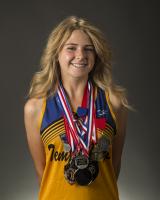 Morgan Cryder
Tempe Preparatory Academy
Student of the Year Recipient
Morgan Cryder is the most accomplished student at Tempe Preparatory Academy & being chosen as the AIA Female Student of the Year has definitely fit the bill. Morgan is a multi-sport Varsity athlete who has had the honor of serving as team captain for many years & has truly impacted her teammates with her leadership and integrity. She has been named Most Valuable Player for her high school soccer team three times and has been named a 1st Team All Region Defender twice. Morgan was also feathered as the "Arizona Republic Athlete of the Month" for academic and athletic achievement. In Track and Field, Morgan has placed in the Arizona State Championships 10 times and medaled 5 times.
On top of athletics, Morgan was also the Tempe Prep Cheer Team Captain and Founder, National Honors Society Secretary, Vice President of the "Classics Club", President of her schools "Social Committee" and President of the schools "Environmental Club".
This gifted and hard working student has outdone herself and added Speech & Debate, an AIA sanctioned activity, to her resume while competing in "Extemporaneous Speech" at State each year. Morgan was also involved in other school activities such as "East Valley Astronomers Club", "Peer Mediation" (to help students collaborate to solve personal problems), "French Club", "Daughter of the American Revolution" (appreciation for heritage & history and assisted at the "Maricopa Animal Care Control Center" since 2014.
Keeping herself busy with athletic and activities, Morgan still managed to keep a weighted GPA of 4.86 and over 400 volunteer hours. Many of those hours she earned teaching children about astronomy at the Gilbert Rotary Centennial Observatory. She also has been a volunteer coach for younger soccer players, conveying her love for the game and the importance of good sportsmanship. Morgan is one of only 4 students in Arizona to earn the prestigious United States Congressional Gold Medal for 2019.
Morgan will attend college in the fall to study astronomy and will continue her love for sports and competition through participating in intramural sports at University of Arizona, University of Hawaii at Manoa, Berkley University, or Brown University.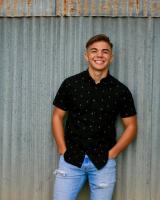 Bryon Finch
Safford High School
Student of the Year Recipient
Throughout his career at Safford High School, Byron (McKade) Finch has been an exemplary person on and off the field of competition. In athletics, Byron is one of the handful of athletes in statewide history to have earned and won the Division III State Wrestling Title four years in a row! He has been awarded the "Mile High Outstanding" Wrestler Award and earned the "Dan Penrod Inspirational" Award in 2019. Being a four time State Title holder is rare and Bryon definitely gave it all his heart. Byron is also a four year letterman in State Track & Field; who took home 4th place in pole vault.
Byron has maintained a 3.85 GPA throughout his high school career as well as served on the National Honor Society, FBLA, Boy Scouts of America, American Red Cross, Leos Club International, Safford High School Band, Safford Choir, and accumulated countless hours of community service. No matter the environment or activity, Byron always demonstrates the utmost integrity and leadership through his own hard work, dedication, and sportsmanship. He leads by example! He regards the principles and values taught through his participation in athletics as the most valuable lessons learned in his life.
Outside of the school setting, Byron is an active member of his community, working with a variety of organizations volunteering at the local Boys' and Girls' Club, Special Olympics, organizing fundraising events, and facilitating service projects. His enthusiasm and greatness extend into the classroom as well. Always striving to go the extra mile, Byron successfully completed higher level courses at the local college to challenge himself by expanding his knowledge and skills, improve his GPA, and get a head start on his future college endeavors. Byron is an honorable, educated and respected young man -- he is the epitome of perseverance and honor!
Byron plans to attend Embry-Riddle Aeronautical University and study Radiology.
Administrator of the Year - 2019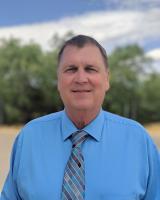 Byron Maynes
Bicentennial Union High School District
1A-3A Administrator or the Year Recipient
Byron Maynes earned his Bachelor of Science in Education with an endorsement in Vocational Education from Peru State College. He began his dignifying teaching and coaching career at Salome High School in 1985. He was the athletic director for 14 years, and has continued to support the athletic program through mentoring coaches and supporting teams. During his 29 years of coaching, he lead teams to regional and state playoff games, although his measurement of success was not in the win-lost columns. He viewed each athlete and each team as an opportunity to challenge and develop not only athletic skills, but also teach life-long attributes such as work ethic, accountability, sportsmanship and humility. He was never more proud of his team when he received unsolicited feedback on how respectful and well-behaved his team was while out at public events. He served as assistant football coach, head boys basketball coach, head girls basketball coach, head softball coach, head track & field coach.
During his tenure at Salome High School, Byron also became a mentor to many fellow teachers. . He is also considered a leader in the community and can be found volunteering and helping the local chamber of commerce, fire department and Lions Club. Known for his quite personality, his leadership is exemplified through the respect he has earned from his students, teachers, district and community. His commitment to the school and students is demonstrated in his day-to-day willingness to step up and do what needs to be done.
Byron has been the recipient of several awards which recognize his leadership and commitment to education from La Paz County Teacher of the Year, recipient of the Phoenix Suns Charities Cotton Fitzsimmons Award, and Teacher of the Year for Technology Education awarded by the United States Air Force not once, but two times. He has been a long-time community supporter, mentor and leader for so many in the Salome community. Byron set high expectations and held his students and athletes accountable to being involved in successful programs which has instilled a sense of community pride and self-confidence in each of the athletes he has coached.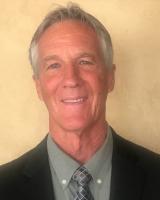 Rick McCutcheon
Paradise Valley High School
Administrator of the Year Recipient
Rick McCutcheon graduated from Arizona State University with a BS in Business Administration and then earned his Master's Degree in Administration and Supervision from the University of Phoenix. He began his career teaching business classes at Shadow Mountain High School in 1979. Eight years later he transferred to Paradise Valley High School where he taught physical education and coached varsity basketball for three years. He became the Director of Athletics at PVHS in 1987 and has served in that role until his retirement in May 2019.
As a member of the AIAAA for the past 32 years, Rick has completed numerous and invaluable Leadership Training courses to further his personal and professional development. He has served as a Region Chairman and a member of the 5A Conference Executive Board. Rick has been recognized several times as Region Athletic Director of the Year and was selected as the 5A Conference Athletic Director of the Year in 2009. He has enjoyed directing many invitational, regional and state tournaments.
Rick has served PVHS and the Paradise Valley Unified School District as a member of numerous committees including Sports Equity, District Random Drug Testing, Student Recognition, High School District and Safety and the High School and District Emergency Response Team. He has also provided guidance and support for the opening of two new PVUSD high schools. He developed the Coaches' Handbook for PVHS Athletics and worked alongside other PVUSD Athletic Directors to develop the Parent/Athlete Handbook and Athletic Director/Coaches' Handbook for the District. In recent years Rick has also worked with the PVUSD to develop Double Goal coaches and Triple Impact competitors through the Positive Coaching Alliance (PCA).
Rick has been a dedicated servant leader and advocate for student athletes and coaches throughout Arizona. His goal was to model and encourage Victory with Honor and the Six Pillars of Character (trustworthiness, respect, responsibility, fairness, caring and citizenship). His love for athletics and his community, and his desire to see students grow and thrive in their personal character, integrity and natural abilities has consistently been at the core of his mission in the PVHS community and beyond.
Coach of the Year - 2019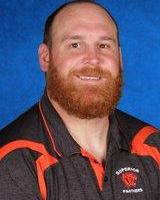 Ryan Palmer
Superior Jr./Sr. High School
1A-3A Coach of the Year Recipient
Ryan Palmer's objective is to coach, teach, and lead in a learning environment which promotes optimum academic and athletic achievement. He strives to inspire and enhance his students' intellectual, physical, and social skills, enabling them to reach their maximum potential.
Ryan earned his BA in Secondary Education from Alma College and his Masters in Administration/Leadership from GCU. He has been a teacher and coach at Superior Jr./Sr. High School for 11 years. Throughout his tenure he has taught everything from 7th grade Social Studies to AP Government. Ryan leads students in a variety of ways. He is the high school student council advisor, the junior high athletic director, the varsity and jv boys' basketball coach, and the varsity football coach. His passion is helping students succeed; in the classroom, on the playing fields, and most importantly, in life.
The Superior football program had been canceled due to low participation the year before Ryan was hired. The program has grown from simply trying to get enough kids out to finish a season, to consistently having over half the male students in the school tryout out for the team each year. The football team has won 4 consecutive regional championships and has posted an overall record of 38-4 over the last 4 seasons. In 2018 Superior High School won its first ever, AIA sanctioned, football state championship.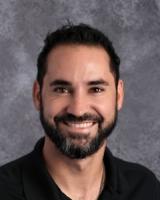 Joe Muecke
Saguaro High School
4A-6A Coach of the Year Recipient
Joe Muecke was named head baseball coach of Saguaro High School in the fall of 2013, there was a genuine interest in enhancing the reach of the program beyond the field and into the community. On the field, Coach Muecke has lead the Sabercats to the playoffs in 4 of the past 6 seasons. With an overall record of 104 – 75. As a Special Education Teacher in Scottsdale Unified since 2008, Coach Muecke was named Scottsdale's Teacher of the Year with students with Disabilities in 2012. He currently works with students with Autism at Saguaro High School. Having spent the previous 7 years as an assistant coach, and being part of Back-to-Back State Championships with the Saguaro baseball program, he felt one area could have a large impact on the culture of the program. Having grown up in the SUSD community, Coach Muecke's goal was to enlighten what it means to have multiple treasures. Giving of your time, to impact the lives of others, is one of the most powerful.
In his first season as head coach, Coach Muecke made it his priority to create a "family" atmosphere for his players and coaching staff. Saguaro Baseball became heavily involved with volunteer work, in line with its new mantra, "Men of Character". As a member of the baseball program, Coach Muecke provides opportunities for each player in the program to complete a certain number of community service hours over their off-season time. Players and coaches have on multiple occasions volunteered at the Miracle League of Arizona, a non-profit organization that allows children with disabilities and special needs to enjoy the game of baseball. Worked with Franciscan Renewal Center and effort an annual blanket drive to/for the Andre House, cleaned community parks, participated in fundraiser walks, toy drives, Operation Christmas Child, served at the Scottsdale Parada del Sol Parade and most recently hosted our first Autism Awarness Game.
Coach Muecke says, "As participants of the Saguaro High School baseball team, the "Men of Character" portion of the program has been a great way for the boys to learn to respect the process, handle leadership, accountability, teamwork, and most importantly - being the best version of yourself." A person's character, who they represent (self, family and school) is more to be praised than outstanding talent. For Saguaro Baseball players, the vehicle is baseball, but who we strive to be as "Men of Character" helps each player develop these lifelong skills along the way.
1A-3A Scholar Activity 2019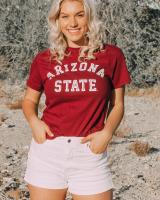 Stephanie Clark
Horizon Honors High School
1A-3A Scholar Activity Recipient
Stephanie is the most accomplished student at Horizon Honors High School. By the time she graduates she will have earned 13 varsity letters for both athletics and activities. Stephanie has demonstrated tremendous effort and growth throughout the years and always brought a focused energy to her teammates. Stephanie would not describe herself as a star, she is way too humble for that, but she is. She has participated & competed in State Theater, who had many lead roles in schools musicals and plays and took up the responsibly of being the Theater Dance/Choregrapher Captain. As dancing is one of Stephanie passions; she also joined the Horizon Honors Spiritline team as co captain where she made another family for life. Acting and dancing wouldn't be complete without being involved with the school Choir. She was selected at the a member of the Choir Council and assisted in helping the program strive.
She has been very successful at balancing her time between academics and activities & keeping up her 3.9 GPA. Stephanie was inducted into the National Honor Society in 2017 and has helped run numerous events such as "Relay for Life", a community based fundraiser for the American Cancer Society, Run for Ryan House and Feed My Starving Children foundation.
Stephanie's passion lies in performing arts, and she aspire to pursue her dreams of becoming a professional actress. Throughout her schooling, she pushed herself to work hard, and be present in her learning. She has a fiery drive to further her craft, and over the course of her life, she has tried to never miss an opportunity to refine her vocal techniques. College is not only vital for Stephanie becoming proficient in her chosen major, but it will provide her with life skills and helpful tools for a successful career.
Stephanie will start her college career at Arizona State University in fall 2019.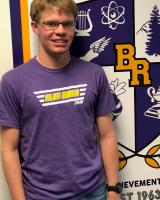 Nate Campbell
Blue Ridge High School
1A-3A Scholar Activity Recipient
Nate is a gifted student from Blue Ridge High School with a wide range of abilities and talents. His VEX robotic designs consistently amazed everyone due to their sophistication and performance. Nate was a semi-finalist at the 2016 VEX Robotics Arizona Championship and a two-time recipient of the VEX Tournament Excellence Award. He is also a renowned pianist who typically leaves his audience in awe of his incredible talent. He performed local nursing homes and fundraising events. Furthermore, he is an outstanding athlete who excelled in cross country, track and field, and soccer. Nate was an Arizona State Championship qualifier in 2018 as a member of his school's 4 x 800 meter relay. He is a national merit scholar finalist and is ranked number 1 in his class with a 4.0 grade point average.
In addition to his athletic and activity accomplishments, he was also part of the National Honor Society, Vice President of the Blue Ridge High School Athletic Training Club and started the Initiative for the Anti-Bullying App at his school.

Nate's intellectual curiosity, dedication, and commitment to excellence is exemplary. Furthermore, he possesses strong problem solving skills and has demonstrated great perseverance to overcome any obstacle he may encounter. Nathaniel serves as a positive role model for his peers and always strives to reach his utmost potential and perform to the best of his ability.

Nate has applied to multiple colleges and plans to study mechanical engineering.
4A-6A Scholar Activity - 2019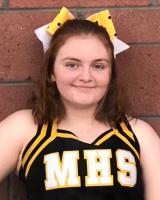 Zoe Walker
Maryvale High School
4A-6A Scholar Activity Recipient
Zoe Walker from Maryvale High School is in the top 1% of her graduating class and she has earned all the praise. She has divided her time between AP/Honor classes, the Varsity Cheer team and the Maryvale softball team while maintaining a 3.8 GPA. Zoe was also inducted into the National Honor Society and was part of Student council her entire high school career.
As part of the Phoenix Police Cadet Program, Zoe accumulated over 500 hours in volunteer & community service. Zoe received the Arizona Law Enforcement Academy certificate of Graduation and the 2016 Maryvale Softball Most Improved Player.
She plans on attending ASU or GCU to major in psychology and pursue a career in medicine.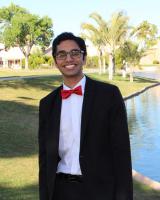 Joel Joseph
Mesquite High School
4A-6A Scholar Activity Recipient
Joel is an exemplary student from Mesquite High School, who displays a commitment to academic excellence and a dedication to his community. From his freshman year, Joel has challenged himself with a rigorous course load while also being deeply committed to high school passions. As the Vice President of the Speech and Debate team since 2015, Joel has worked to grow the team, coach his peers and mentor them to be successful as communicators. He also serves as the Vice President of the Math and Science team and during high school worked with AZ Scitech Chief Science Officers to increase STEM participation in his school. As a senior, Joel has had the chance to be involved with scientific research at ASU and has learned to expand his desire for innovation with current research projects. He also sets aside time each week to volunteer with ICAN as a student mentor as well as his local homeless shelters and also with his school honor societies.

Joel has earned a 3.95 GPA and is ranked in the top 1% of his graduating class & was inducted into the National Honor Society. His desire to use the knowledge that he has acquired to create a difference is what truly sets him apart from his peers. He has worked hard to make his school and the community a more inclusive and better place. Joel truly demonstrates initiative, leadership and perseverance.
Joel plans on attending ASU and hopes to study Biochemistry and Business.
1A-3A Scholar Athlete - 2019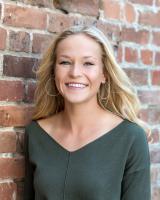 Lauren Foster
Chino Valley High School
1A-3A Scholar Athlete Recipient
Lauren is ranked #1 at Chino Valley High School and a two sport athlete earning four year letterman in both soccer and track & field. This National Honor Society member has lead her school soccer team to three State finals, one state title and was names 2A State Player of the Year in 2018. In 2016, Lauren made Student of the Year for alll her accomplishments. Lauren is also a member of an all-state 4x400 relay team and serves as her senior class president.
She finishes her high school career by setting school records for goals scored in a career (96), assists in a career (79), and assists in a season (28).
Lauren will pursue a degree in Business while playing soccer for the nationally ranked Embry Riddle Aeronautical University women's soccer team.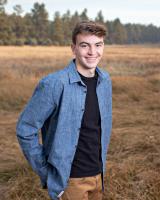 Josiah Goode
Blue Ridge High School
1A-3A Scholar Athlete Recipient
To look at Josiah Goode's résumé is to look at a blueprint of what is necessary to become an excellent, accomplished young man. His superior academic record is among the elite. He carries a 4.0 GPA while taking the most rigorous honors and AP classes at Blue Ridge HIgh School.
Beyond his tremendous academic ability lies the competitiveness of a champion. Josiah played an active role as captain on his soccer team which led the team to two state championship games. He is also a stellar athlete on the track field, a two-time qualifier for the Arizona State Championship Meet in the 110-meter hurdles. Josiah's leadership role in the community doesn't go unnoticed among his peers. Josiah has completed countless hours of community service. One of his favorites is helping the track athletes at the Special Olympics at Blue Ridge High School. He also assists in putting on a track meet for the youth of his community, who are affectionately known as "the Tracketts." His quiet, humble demeanor has led him to be an amazing role model for all the young student-athletes in the community, school, and athletic department.

Josiah plans to attend the University of Arizona and pursue a career in Aerospace Engineering.

4A-6A Scholar Athlete - 2019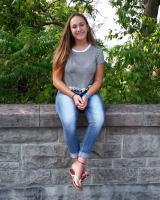 Alyssa Botkin
Sahuaro High School
4A-6A Scholar Athlete Recipient
From Sahuaro High School, Alyssa has excelled in three distinctive areas Academics, Sports and the Arts.

Alyssa has a 4.0 GPA and ranks 3rd in her class. She has received numerous academic awards; Mexican-American Student Services Academic Excellence, Cesar Chavez Special Award, Cougar Foundation Spirit Award, President's Educational Awards Program - Outstanding Academic Excellence And for her SARSEF project an award from the American Psychological Association.

Alyssa comes from an athletic family, so sports is in her veins. She is a three sport athlete in Softball, Cross Country and Basketball. She was named to the 4A All-Academic team and was Honorable mention for 2019. Alyssa also excels in music for her entire high school career; a cellist and sits 1st chair in the Sahuaro Orchestra. Alyssa was the recipient of the Outstanding Musicianship Award, was selected to the Tucson Philharmonic Youth Orchestra, Arizona's South-Central Regional Orchestra while serving as this year's Orchestra club President.

She serves on the National Honors Society, the Sahuaro Treasurer and helped Relay for Life Team that raised over $20,000. She is truly an outstanding well rounded young lady who has many great achievements and will continue to touch lives and better her community.
Alyssa will be attending University of Arizona to study Biomedical Engineering.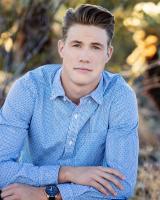 Keegan Freid
Sunrise Mountain High School
4A-6A Scholar Athlete Recipient
Keegan is beloved by all, and considered the single most influential student at Sunrise Mountain High School. His leadership in the classroom as a student, on the field as a player, and with the entire student body for student council has been paramount. As an athlete, Keegan has excelled on the football field, on the basketball court, and in track and field all at the Varsity level. He has captained championship level teams on an annual basis. The impact he makes on the field is noticed by all, where his athleticism speaks for itself. Compounded with his athletic ability is his respect for the game and officials, where he always pursued Victory with Honor winning with class and staying humble. Keegan has been awarded District Player of the Year, MVP and Student of the Month at Sunrise Mountain.
Throughout high school, Keegan maintained his 3.9 GPA and also volunteered at his church for Exceptional Stars, a sports program for special needs children. He is a member of the Fellowship of Christian Athletes. He also represents Sunrise Mountain High School on the Peoria Unified student-athlete leadership team. Throughout his high school career he was Freshman class president, Senior class president, Student Body Treasurer and Head of Assemblies. On top of all of this, Keegan also works at a nearby restaurant in his spare time.
He is an All-American young man that exceeds as a human being, as a student, as a family man, and as an athlete. He represents everything this honor was meant to be.
Keegan plans to attend the Air Force Academy.
Leadership In Girls'/Women's Athletics - 2019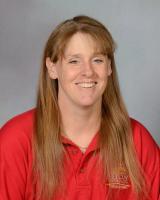 Karen Self
Seton Catholic Preparatory
Leadership in Girls'/Women's Athletics Award Recipient
Karen went to teach Economics & coach at Seton Catholic Preparatory in 1992, just one year out of her college basketball career at Arizona State University. During her time at Seton Catholic she has built a basketball program that has 9 State Championships. The Seton Catholic Sentinels won over 22 consecutive Regional/Sectional Championships. Through 25 seasons Karen's overall record is exceptional and the program she built is outstanding.
Karen definitely is a great role model to the lady Sentinels in teaching the players to compete with class, integrity, sportsmanship & has taught the players to conquer their fears on & off the court. Karen knows that sports is such a valuable tool for student athletes.
On top of Karen's passion to coach it has lead to many recognition's and over 12 awards. In 2008 Karen was awarded the Phoenix Suns Spirit of Cotton Award, which recognizes a high school basketball coach in AZ who consistently demonstrates the best qualities of a coach, educator, mentor and community leader. Other awards that Karen received as a coach were WBCA Finalist National Coach of the Year, AZ HS Coaches Hall of Fame Inductee, AZ Republic Southwest Valley & Economics Teacher of the Year. Karen is not motivated or driven by award and accolades... she is driven by an inner passion to make a difference in the lives of the students and athletes that she has the opportunity to teach and influence.
Gary L. Whelchel Officials Award - 2019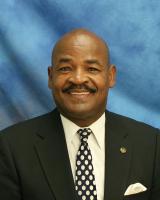 Don Logan

Gary L. Whelchel Officials Award
Don Logan is a native Phoenician who attended South Mountain High, Phoenix College, and ASU. As a former athlete, he was captain of his high school state championship wrestling team. He continued his wrestling career and achieved All-American honors at Phoenix College. Losing weight is an essential function in the sport of wrestling. Instead of using the traditional methods of losing weight, Don resorted to playing basketball. It was his love of basketball that led to him pursuing a career in basketball officiating.
25 years ago, Don became an AIA Basketball Official. After two years of officiating, he was certified to officiate varsity basketball games and hired as a junior college official. He has officiated in the state tournament every year and has officiated several championship games.
Don has supported the AIA in many ways. As an official, he was a founding member of the Commissioner's Advisory Committee. In this role he was a training instructor, assisted with assigning lower level basketball games, mentor to sub-varsity officials, camp instructor, and diversity consultant. He has received many awards acknowledging his contributions to the basketball officiating group that includes the Fritz's Gorham's Official Award, and AIA Men's Official of the Year.
Skip Bryant Award - 2019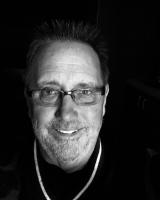 Steve Paynter

AIA Skip Bryant Award Recipient
Steve Paynter's interest in photography began in the 80's taking action shots of his sons different sporting events.
Over the years of donating time and photos to Moon Valley High School he was awarded the Glendale Union School District Volunteer of the Year Award in 1998.
A frequent visitor on the field sidelines he met and became good friends with Barry Sollenburger as they shared their passion for high school sports.
Steve provided photos for Barry's Phoenix Metro Magazine and through Barry's association with AIA, as the Media Relations Director; Paynter's Pics became AIA's official photographer covering a variety of the high school sporting events.
Paynter's Pics Action Photography has enjoyed a long relationship with the AIA and continues to provide action photos to them for multiple sporting events as well as Onsite Photo Sales for several state championships each year.
Steve has often said that he has the best seat in the house and loves every minute of it.
Courage Award - 2019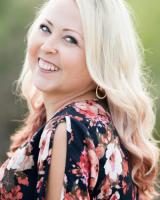 Tiffany Tate
Seton Catholic Preparatory
Courage Award Recipient
Most students at Chandler High school back in the 90's knew Tiffany Tate status as a basketball star. She was part of 2 state championship teams. But most could not quite comprehend the burden she lived with on a daily basis. The girl who was so full of life had been dealing with Cystic Fibrosis since she was born.
Cystic fibrosis is a progressive, genetic disease that causes persistent lung infections and limits a person's ability to breathe. There is no cure and too many lives are cut far too short.
Diagnosed at 4 months old, Tiffany never allowed her condition to define her or her life. She grew up and kept giving to her community. She found love with her husband, best friend and soulmate, Kevin Eckes. And she went on to become Assistant Basketball Coach at her school, Seton Catholic.
Known as Coach Tiff, she was a part of seven state championships. She played and coached with gusto and despite her own physical challenges, she never let that stop her from being there and loving her players and head coach Karen Self.
She underwent double lung transplants in 2012 and 2014 and then battled cancer brought on by the Immunosuppressive Medications given to transplant patients. Through it all, she showed extraordinary courage, always choosing to Live in the Moment. She is forever known for her passionate personality and grit.
Surrounded by her family, Tiffany passed away this past year on Sept 28, 2018. Her spirit will never be forgotten.
Student Leadership - 2019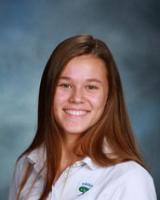 Abigail Converse
Xavier College Preparatory
Student Leadership Recipient
Abby is the consummate leader on the at Xavier College Preparatory, the AIA Student Leadership Committee and in the volunteer setting. She is articulate and has a natural talent for bringing persons of all age groups to consensus. Her enthusiasm is contagious and she has the ability to make all those she meets feel welcome and valuable. As a member of the AIA Student Leadership Advisory Committee, Abby represented the committee at the NFHS Leadership Summit.
Only a junior, Abby has maintained a 4.0 GPA, has taken all advancement classes, is a member of the National Honor Society, Mathematics Honorary Club and Mu Alpha Theta.
Abby's leadership has helped Xavier win two 6A State Volleyball and two 6A Beach Volleyball State Championships. Abby truly represents so well Xavier's mission statement "Women of Faith Pursuing Excellence".
Ahlias Jones
Arizona College Preparatory
Student Leadership Recipient
General Douglas MacArthur said, "A true leader has the confidence to stand alone, the courage to make tough decisions, and the compassion to listen to others. He does not set out to be a leader, but becomes one by the equality of his actions and the integrity of his intent." This statement embodies Ahlias Jones! He has a quiet confidence and lets his actions speak for themselves. Ahlias is a student-athlete in every sense of the phrase. In his three years of attending Arizona College Preparatory he has maintained a 4.2 GPA while entrenching himself on campus. He is currently the Junior Class President at Arizona College Preparatory and voted as the Student Body Present for the 2019-20 school year, Treasurer of the Black Student Union and a contributing member of Key Club. Ahlias is a three-sport athlete, participating on Varsity Football, Basketball and Track and Field team. Recently, Ahlias received his first NCAA offer to continue his education and football career with Willamette University.
Ahlias has foresight uncommon in most students his age. He has aspirations of becoming an Athletic Director and has spent the last semester shadowing the Athletics Department. He is a member of the AIA Student Leadership for Athletes Committee representing the 3A Conference and the only student to sit on the AIA Steering Committee that facilitates a strategic plan for the future of the AIA. He was also selected to represent the state of Arizona at the NFHS Student Leadership Summit in Indiana later this year. With the knowledge and experiences that he has gained, he has taken the initiative to start a district wide Leadership Summit in the 2019-20 school year. Not only is Ahlias Jones the pride of Arizona College Prep and Chandler Unified School District, it is evident by his contributions and courage to be uncommon that he is a true leader of his generation.
Sports Unified - Special Olympics - 2019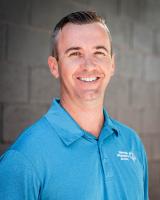 Michael Wakeford
Raymond S. Kellis High School
Sports Unified - Coach of the Year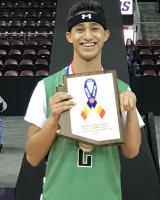 Jorge Garcia
Amphitheater High School
Sports Unified - Athlete of the Year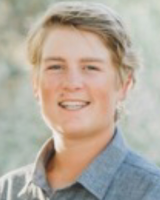 Kyle Shagena
Perry High School
Sports Unified - Partner of the Year
Tony Komadina Award - 2019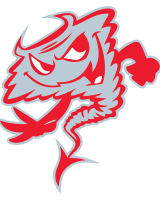 River Valley High School

1A -3A Tony Komadina Award Recipient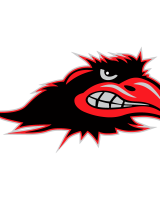 Empire High School

4A -6A Tony Komadina Award Recipient
Director's Cup - 2019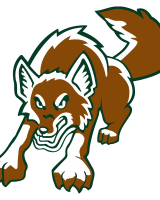 Campo Verde High School

Director's Cup Recipient
Glen Treadaway Sportsmanship Award 2019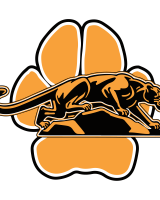 Superior Jr./Sr. High School

1A Glen Treadaway Sportsmanship Award Recipient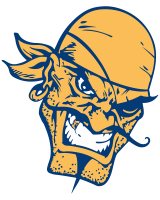 Valley (Sanders) High School

2A Glen Treadaway Sportsmanship Award Recipient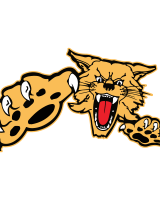 Chinle High School

3A Glen Treadaway Sportsmanship Award Recipient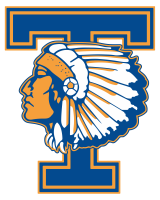 Thunderbird High School

4A Glen Treadaway Sportsmanship Award Recipient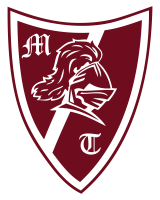 Metro Tech High School

5A Glen Treadaway Sportsmanship Award Recipient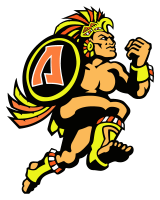 Corona del Sol High School

6A Glen Treadaway Sportsmanship Award Recipient