Latest Features/Blogs
AIA PRESS CENTER
AIA Champions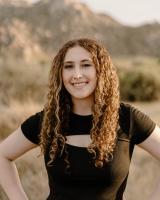 Madison Gallagher
North High School
Student of the Year Recipient
Madison "Madi" Gallagher has never let obstacles stand in the way of achieving the highest standards for herself as a scholar-athlete-leader or for assisting those around her reach their ultimate potential. Her unweighted GPA at North High is 4.0 in IB, AP, Honors and Dual Enrollment courses.
Madi, played volleyball all four years, each in a leadership role. She culminated her volleyball career earning All-Metro 1st Team honors, All State Honors, 1st Team Phoenix Union All Star Team, as well as 1st Team All-Academic Team. She led the 6A in Service Aces (73) and was second in the 6A for Assists Per Set (9.4) while also shattering North High Season and Career Serving and Assists Records. With these accomplishments she was also recognized as an AZ Central "Scholar-Athlete of the Week." In addition to her scholar and athletic accomplishments, Madi has been a valued member of the North High School JROTC Program while rising to the position of Battalion Commander and rank of Cadet Colonel and was chosen the #1 Cadet in the Phoenix Union District this Year. Madi's involvement with JROTC Teams (Raider, Academic, Honor Guard) has earned her numerous individual and team awards to include her being a member of the State Championship Raider Team, which has not been accomplished in 33 years. She and her staff also scored the highest ever inpection score of 99% on this years JROTC Annual Compliance Inspection, and led all schools in the State and the JROTC Region for this score.
Madi's selfless-service to his community cannot be overstated either. Madi, has volunteered hundreds of hours of her time and talent to make Phoenix a better place for all of those that he has had the ability to reach out to. Madi received an Appointment to The United States Air Force Academy on 20 March 2022 culminating a life long goal of hers, and establishing her as one of the top 2% of all females in the Nation while solidifying her pursuit of excellence as a scholar-athlete-leader. She received Nominations from President Biden, Senator Kelly, U.S. Representative Grijalva as well as a nomination for her work making North High JROTC an Honor Unit with Distinction organization. Madi plans to spend her career after Graduation from the U.S. Air Force Academy as an Air Force Pilot.
AIA TODAY
.
Events for the week of October 3, 2022
Monday, October 3, 2022
AIA Bask Ofcls Training (Brd Rm) - 6:00 pm - 8:00 pm
Tuesday, October 4, 2022
AIA Wrestling Officials Mtg (Brd Rm) - 5:30 pm - 9:00 pm
Wednesday, October 5, 2022
SLAC (AIA Brd Rm) - 9:00 am - 12:00 pm
Thursday, October 6, 2022
Tournament Coord Mtg (AIA Brd Rm) - 8:30 am - 10:00 am
Dist AD Mtg/Confernce Leadership Mtg (Brd Rm) - 10:00 am - 12:00 pm
AIA QUICK LINKS