Latest Features/Blogs
AIA PRESS CENTER
AIA Champions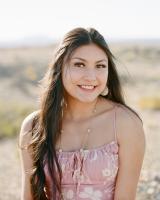 Neve Redhair
Page High School
Student of the Year Recipient
Neve Redhair has been the most dedicated student at Page High School & its no surprise the class Valedictorian was chosen as the female Student of the Year. Neve was born in the small town of Tuba City, Arizona, located on the Navajo Reservation & receiving this award is a huge honor to represent her community. Growing up, she was always highly active in different sports. Neve focused on athletics most of her childhood, but as she progressed into high school, a wider variety of extra-curricular activities caught her interest.
At Page High School, Neve was an elected officer of the Student Council for three years, a member of the Nursing club all four years, and was inducted into the National Honors Society her sophomore year. All the while accumulating over 100 community service hours. Neve completed a 6-week Biomedical Research Internship in the summer of 2019 at Vanderbilt University and will be attending this program in 2021 as well. Neve has played on the Varsity Girls' Basketball team all four years of high school and was a team captain her senior year. Her team won three state titles and four region championships. She was also on the Varsity Volleyball team for the past three years.
While in high school Neve completed dual enrollment courses with Coconino Community College (CCC), earned the President's Honor Roll award, and is obtained her Nursing Assistant certificate. Neve also completed her two year Home Health Air Program and finished with her Direct Care Workers industry certification. During her two years in the HHA program, Neve completed countless hours of job shadow experience and volunteering at local healthcare facilities in her town.
Neve has learned over her athletic career that sports have the ability to teach any player good principles and ethics. Athletics have taught her the importance of respect, trust and sportsmanship but most importantly has shaped her into a better person she is today.
Neve was accepted at Stanford University and will major in Biology with a pre-med emphasis. As a Native American woman, she hopes to bridge that gap in diversity in the medical field.
AIA TODAY
.
Events for the week of August 8, 2022
Monday, August 8, 2022
Ftball New Officials-Brd Rm - 6:00 pm - 8:00 pm
Tuesday, August 9, 2022
Ftball Officials-Level 1 - Brd Rm - 6:00 pm - 8:00 pm
Wednesday, August 10, 2022
SLAC-AIA Brd Rm - 9:00 am - 12:00 pm
Thursday, August 11, 2022
5A Conf Mtg AIA Brd Rm - 9:00 am - 11:00 am
Volleyball Officials Meeting-Brd Rm - 6:30 pm - 8:00 pm
AIA QUICK LINKS