Latest Features/Blogs
AIA PRESS CENTER
AIA Champions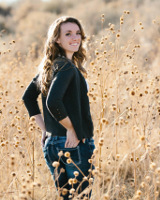 Madison Joanne Fields
Joseph City High School
Student of the Year
Madison's academic record reflects near perfection: an exceptional attendance record, a cumulative GPA among the highest in her class, and National Honor Society standing all while completing 'honors' courses to meet her graduation requirements. Miss Fields combines a bright intellect with an uncompromising work ethic, unwavering determination and fierce competitiveness. Madison has participated in numerous sports throughout her years at Joseph City; most of which were at the varsity level. She has also been involved with the Theater/Drama program all four years at Joseph City and has contributed to the Varsity Cheer squad.
Madison is personable and possesses many characteristics of leadership. Demonstrating these abilities through student government, she will be concluding her service as President of Student Council at Joseph City. Maintaining as high a level of energy and commitment in her position in Student Council as she has given to her academic and athletic endeavors has led her to become an outstanding role model to her peers.
AIA TODAY
Events for the week of March 2, 2015
Thursday, March 5, 2015
Legislative Council Caucus - 3:00 pm - 5:00 pm
Friday, March 6, 2015
Legislative Council Meeting - 8:00 am - 4:00 pm
2015 AIA State Basketball Tournaments
Monday, March 2, the championships in D-I and II boys and girls basketball will be played beginning at 2 p.m. at Gila River Arena. Watch the championships live on FOX Sports Arizona. For viewers outside the Arizona market, the games can be watched live on the NFHS Network for as low as $9.95 for a day pass.
View the brackets for the girls and the boys, as well as the tournament information page for the girls and the boys for complete information. Download the basketball programs for free on the programs page.
2015-2018 Team Sports Division & Section Placements:
Fnal Division Team Sport Placements as of Feb. 25, 2015 at 5:00 p.m. Initial Section Placements will be released by 5 p.m. on Wednesday, March 4, 2015.
Division Team Sport Placements by Sport
Division Team Sport Placements by School
View the results of the Executive Board Appeals Division Placement
View the results of the Football Division Placement Appeals
View the results of the Tennis Division Placement Appeals
View the results of the Large School Division Placement Appeals
View the results of the Small School Division Placement Appeals
View the results of the Volleyball Division Placement Appeals
View the results of the Soccer Division Placement Appeals
View the results of the Basketball Division Placement Appeals
View the results of the Softball Division Placement Appeals
View the results of the Baseball Division Placement Appeals
2015-2018 Individual Sports Division Placements:
Pending Executive Board appeals for Individual Sports March 16, 2015:
Division Individual Sport Placements by Sport
Division Individual Sport Placements by School
AIA QUICK LINKS