Latest Features/Blogs
AIA PRESS CENTER
AIA Champions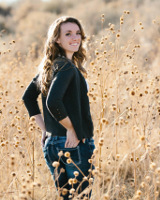 Madison Joanne Fields
Joseph City High School
Student of the Year
Madison's academic record reflects near perfection: an exceptional attendance record, a cumulative GPA among the highest in her class, and National Honor Society standing all while completing 'honors' courses to meet her graduation requirements. Miss Fields combines a bright intellect with an uncompromising work ethic, unwavering determination and fierce competitiveness. Madison has participated in numerous sports throughout her years at Joseph City; most of which were at the varsity level. She has also been involved with the Theater/Drama program all four years at Joseph City and has contributed to the Varsity Cheer squad.
Madison is personable and possesses many characteristics of leadership. Demonstrating these abilities through student government, she will be concluding her service as President of Student Council at Joseph City. Maintaining as high a level of energy and commitment in her position in Student Council as she has given to her academic and athletic endeavors has led her to become an outstanding role model to her peers.
AIA TODAY
Events for the week of January 26, 2015
Monday, January 26, 2015
AIA - Hardship Appeals - 8:00 am - 5:00 pm
AIA Swim/Dive Advisory Committee Meeting @ North High School - 5:00 pm - 6:00 pm
Wednesday, January 28, 2015
Heads Up Football Meeting - District ADs & ADs - 12:00 pm - 1:00 pm
AzBOA Baseball Mtg - 6:00 pm - 7:30 pm
Thursday, January 29, 2015
Sports Advisory In-Service - 10:00 am - 12:00 pm
AIA Softball Officials Training - 6:00 pm - 8:00 pm
Friday, January 30, 2015
Soccer Bracket Show - 2:00 pm - 4:00 pm
2015-2018 Division Placement Appeals Schedule:
The appeals scheduled can be accessed by clicking on the followings links, which includes the school appealing, and the time the appeal will be heard/discussed. These documents will be updated daily with the next posting no later than Monday:
Tue., Feb. 3, 8:30 a.m.: Football Appeals Schedule
Wed., Feb. 4, 1:30 p.m.: Tennis Appeals Schedule
Thur., Feb. 5, 9 a.m.: Placement Appeals Schedule
Thur., Feb. 5, 1:30 p.m.: Baseball Appeals Schedule
Thur., Feb. 5, 1:30 p.m.: Softball Appeals Schedule
Fri., Feb. 6, 8:30 a.m., Volleyball Appeals Schedule
Mon., Feb. 9, 8:30 a.m., Basketball Appeals Schedule
Mon., Feb., 9, 8:30 a.m., Winter Soccer Appeals Schedule
Team Sports Initial Division Placements 2015-2018:
An Executive Summary as to how the initial division placements were generated for team sports can be viewed here.
The Initial Division Placements for team sports for 2015-2018 are now available:
Initial Division Placement for Team Sports by School, 2015-2018
To view the sport by sport breakdown as to the initial division placements, please see the following documents:
Baseball, Basketball (Boys), Basketball (Girls), 11-man Football
Softball, Tennis (Boys), Tennis (Girls), Volleyball (Boys), Volleyball (Girls)
Soccer (Boys) Winter, Soccer (Girls) Winter,
Member schools may appeal their division placement, up or down, but must submit their appeal no later than 2 p.m. on Monday, Feb. 2. The division appeal form can be downloaded here.
Please see the AIA Division/Sections/CS Team Sports Timeline.
Division Placement for Badminton, 8-man Football, Fall Soccer (Boys & Girls), 2015-2018
Individual Sport Classification Process 2015-2018:
On Tuesday, Jan. 20, 2015, the AIA Executive Board approved a recommendation that Individual Sports Division and Section Assignments remain as they currently are and allow the sport advisory committees to recommend what schools should be promoted up every two years (three years for the first cycle) based on sectional and/or state tournament success of the course of the last five to six years. All member schools would still have the ability to appeal their current placement for individual sports. For complete information as to the timeline and process for individual sports classifications, please click here.
AIA QUICK LINKS